of The Sati Trilogy:
The Yes Sayers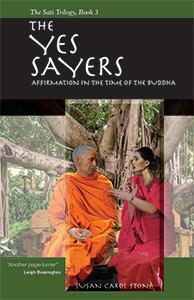 Just as Sati is feeling settled in his life as abbot of Ghosita's Park and is satisfied with his spiritual progress, his karma catches up with him and thrusts him into unchartered territory. In The Yes Sayers, the final volume of The Sati Trilogy, Sati discovers he has an adult daughter, and she is angry. Kasi, who arrives in Kosambi after an epidemic decimates her village, blames him for having abandoned her mother and herself (in utero) to a horrific but common fate among women who lack a man's protection, and she demands that he use his influence to enable her to ordain as a Buddhist nun. Sati struggles with the challenges of being both a monk and a sudden father, while Kasi flounders in her efforts to find her footing in new circumstances.
Meanwhile, mysterious verses written by Sati's father reappear when his aging aunt can no longer keep them. He probes the meaning of the verses, which he venerated as a child but never understood, and comes to a traumatic realization about his deepest spiritual experience. He feels obliged to leave Ghosita's Park to seek the Buddha's advice.
Sati's fellow monk Pindola, always jealous of Sati's position, seizes the opportunity to attain his own ends, a move that forces Sati to make a radical decision. A surprising turn reveals that long-venerated scriptural texts can mask unsuspected stories.